Fix discord stuck on checking for updates. Restart your computer and again open the discord app let check for and install the latest updates. Rebooting your PC flush memory, drop partial data not written to disk and restart the Discord update process that probably fixes the Discord update loop.
Discord is used by gamers worldwide and is a VoIP (Voice over Internet Protocol) service and also as a messaging application. However, Discord is not just a messaging or calling app; its features are well suited to the gamer, such as low-latency voice chat dedicated channels, custom server, and lots of integrations and personalizations.
But Discord has some errors that interrupt the gamer and ruin its experience. For example, if you are trying to update Discord to its latest version, it usually gets stuck on the checking for updates page. If you are having a similar experience & busy searching for an idea about how to fix Discord stuck in a loop during updating to latest version, you have landed in the right place. The below guide is created by testing the methods. So, by this, you can try to resolve your issue.
Are you stuck in an update loop & Discord not update? This isn't a big issue; most of the DIscord users face the same problem. While updating, the Discord icon keeps spinning, and after moments, it shows as the "Discord Update Failed". The point is straightforward to resolve on your own; keep reading the article and apply the mentioned steps to your device to fix Discord stuck on checking for updates.
Why Discord Stuck On Checking For Updates?
You will find numerous reason which explains why Discord probably stuck during updating to the latest version.
The Discord client might not have administrative privileges on your PC, preventing you from completing the update process.
Your device might be going through a network glitch or choppy and lousy internet connection, preventing Discord from downloading the required files.
The case can be that your Antivirus software or Windows Defender prevents Discord from downloading files required for the update and mistakenly marking them as malware.
The cache files of Discord might be corrupted. In this case, the only way to make it work that delete all the files related to Discord, uninstall Discord and then reinstall from the official website.
Very unlikely Discord servers might be down.
This Discord stuck updating issue has many different solutions. But before following any intense solutions, try the steps below as they are tested to work for many devices. So now is the time for you to stop worrying as we will have your back to make your server communicating in no time; we are going through few working fixes for the Discord update failing issue.
Before starting, make sure that you start from the first step and then move forward if the steps don't work in your case.
1. Restart The Router And PC
If you face the issue of stuck on updates, the first you should do is restart the PC. If the problem is simple, then you might get rid of it. If not, you also need to restart your router. The problem might be an internet glitch, and if the router was responsible, then restarting the PC and Router should solve the problem instantly.
2. Analyze Discord Server
The case of discord server down might be very rare or facing issues due to technical problems or maintenance as they as a well-organized server, but before starting to uninstall things, it's better to go with simple steps.
You can quickly check the server status of Discord, or is there any outage issue that is stopping you from updating Discord on the status website in real-time. If the servers have any problems, you can face problems like checking updates or shaky voice.
First, visit discordstatus.com and check whether everything is working well; this might fail to give updates on your device, and if everything is working, go to the following solutions.
3. Running Discord As Administrator
To start an application as an administrator doesn't seem like a proper solution for errors, but this simple step has worked for many clients. The solutions help when your device is experiencing any JavaScript Error. The simple trick may give Discord a little nudge & this will be the key to get you started again and add you to the mix.
So, follow the steps you need we have mentioned below:
First, end all the tasks identified with Discord by going to the Task Manager
Search for Discord from your desktop
Right-Click on Discord to get an option as "Run as administrator".
Click on the administrator by giving authorization.
The update will start by clearing the issues.
4. Delete AppData And Reinstall Discord
Many clients facing issues with the Discord update have mentioned the following step worked for them as the solutions remove the old Discord and content associated with it from your Windows. Uninstalling Discord with JavaScript Error and reinstall it again with the latest update can be the best choice.
Follow the steps below to avoid any errors:
The first thing to do is go into the Task Manager and End all the running tasks identified with Discord.
Now press Windows + R, and you will get a unique Run order box at the bottom of your screen.
Write "appwiz.cpl" in the box and press enter to search.
You will get programs and features; tap open, search for Discord in it.
Uninstall it by a Right-click option
Again, hold Windows + R
Now type "%appdata%" this will show you all the applications which have their content store.
Search the Discord and erase its organizer. If you are finding difficulty in finding a friction organizer, it will be covered up potentially. So, select a view from the top bar and then check in the hidden items.
Now, you are good to introduce your device with the latest Discord update and try restarting the device after that.
5. Disable Proxy Server
Between your device and the internet, the proxy is the gateway. The proxy acts as a firewall that might be blocking the internet connection towards Discord. Disable the proxy server and check if it was creating the problem.
First, open the Run order box by pressing Win + R
Type inetcpl.cpl in the box to open Internet Properties
Then switch to the connections tab
Go to LAN settings from the connections tab
Uncheck "Use a proxy server for your LAN"
Press OK and Apply the changes, reopen Discord and check if it is installing the updates successfully.
6. Disable Windows Defender
Let's assume you are using Windows 10 user. So, refreshing will never solve your issue, but disabling Windows Protector will fix it. Windows Defender has a particular job in your device to protect it. It keeps your PC inspection free, and it stops the download of documents that are a danger to your device.
But you need to turn it off as some time; follow the steps below:
Press Windows key and find for settings.
Go to Update and Security in settings.
Click on Virus and Threat > Manage Settings.
Turn Off Real-Time Protection under Manage Settings
Save the settings and try updating Discord once more
7. Contact Discord Support
The solutions mentioned above to fix Discord stuck on checking for updates have been reported as the most working solutions. You will find one of the solutions helpful, and if, in some case, the fixes haven't bought your Discord on the track, then the last reason remains is that you contact Discord Support.
Submit a Ticket
Don't forget to leave a comment and let us know which fix has worked in your case.
7 Best Fixes for Discord Stuck on Checking for Updates [MiniTool News]
What Is Discord?
Discord is a VoIP (Voice over Internet Protocol). It is an instant messaging and digital distribution platform that is designed for creating communities. You can make voice calls, video calls, text messaging, media, and files in private chats using it. It has versions for Windows, macOS, Android, iOS, iPadOS, and Linux. You can also use it on your web browser.
Discord Stuck on Checking for Updates! How to Fix It?
When there are available updates for Discord, the client will automatically check for updates and download & install the updates after you launch it. You'd better keep your Discord update-to-date to enhance the security performance of the software.
It will take a while to finish the whole update process. However, at times, you discover that your Discord stuck on checking for updates. The Discord update loops forever. Obviously this is problematic.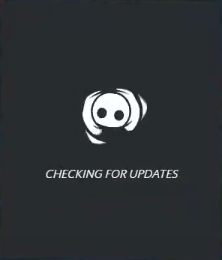 Reasons for Discord Stuck on Checking for Updates
Discord server issues.
Internet connection issues.
The updates are blocked by your Windows Firewall.
Corrupted Discord update file.
Privilege issues.
And more….
How to Fix Discord Stuck on Checking for Updates
Check the internet connection
Check the Discord server status
Run Discord as Administrator
Disable proxy server
Temporarily disable your Windows firewall
Rename the update file for Discord
Reinstall Discord
Fix 1: Check the Internet Connection
When your Discord won't update or your Discord update loop, the first thing you need to do is to check your internet connection. For example, you can use your web browser to visit a page and check whether the internet connection is normal. If not, you need to first troubleshoot the internet connection problems.
However, if the result shows that your internet connection is normal, you need to check the status of the Discord server. The following part shows what you should do.
Fix 2: Check the Status of the Discord Server
There is a website that especially shows the status of Discord. It is https://discordstatus.com/. When your Discord won't stop update, you can go to this site to check whether the Discord server is in a normal state.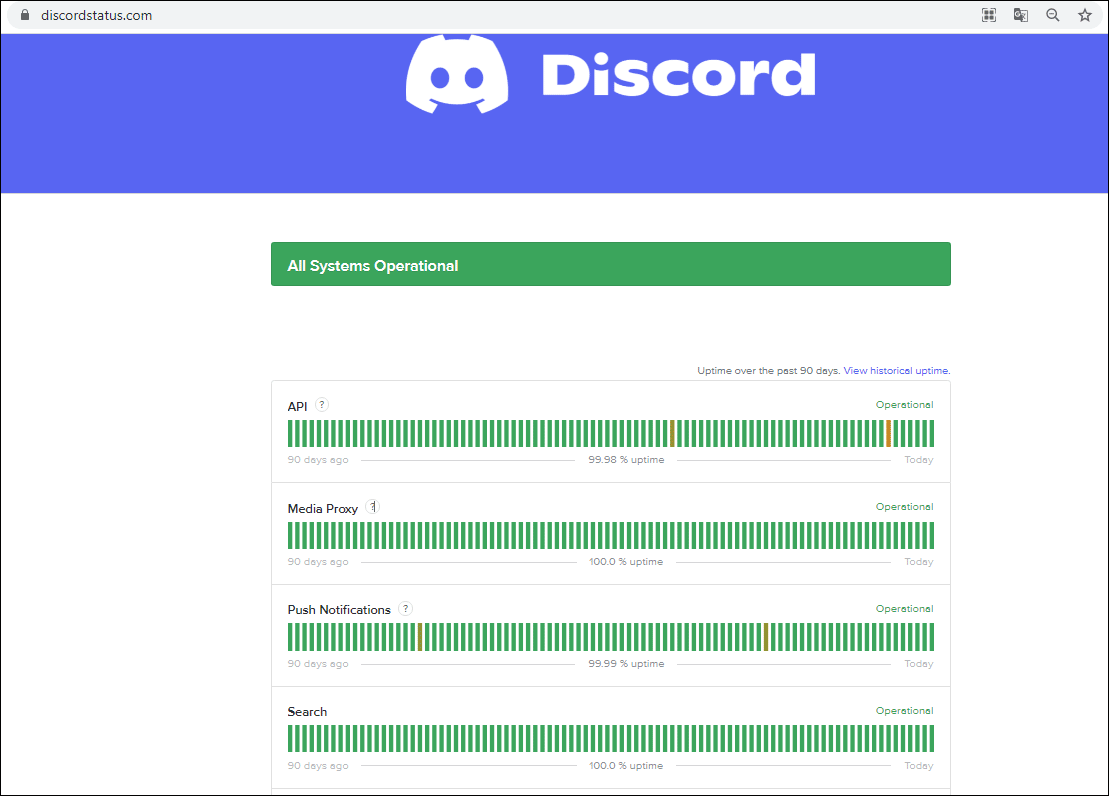 If the result shows that the Discord server encounters issues, you need to wait until the official solves the issue.
Fix 3: Run Discord as Administrator
The privilege issue can also cause the Discord update issue. You can run Discord as administrator and see whether the software can perform a complete update.
It is very simple to do this: you can right-click the shortcut of Discord on the desktop and then select Run as administrator from the right-click menu.
Fix 4: Disable Proxy Server
Press Win+R to open Run.
Type cpl in Run and press Enter to open Internet Properties.
Switch to the Connections tab.
Click the LAN settings button.
Make sure Use a proxy server for your LAN is unchecked.
Press Apply and OK to save the change.
Now, you can re-open Discord to check whether it can successfully install updates.
Fix 5: Temporarily Disable Your Windows Firewall
The Discord updates may be blocked by your Windows Firewall. You can disable it to have a try.
Press Win+R to open Run.
Type cpl in Run and press Enter to open Windows Defender Firewall settings.
Click the Turn Windows Defender Firewall on or off link from the left menu.
On the next page, check Turn off Windows Defender Firewall for both Private network settings and Public network settings.
Click OK to save the changes.
Fix 6: Rename the Update File for Discord
A corrupted Discord update file can cause the update issue. You can rename the update file to force Discord to download a new copy to solve the issue.
Here is a guide:
Press Win+R to open Run.
Type %localappdata% in Run and press Enter to open AppData local folder.
Find the Discord folder and open it.
Find the exe and rename it to UpdateX.exe.
Open Discord and see whether it can update successfully.
Fix 7: Reinstall Discord
If all of the above methods don't work for you, you need to reinstall the Discord app on your computer. Reinstalling Discord can directly install the latest version of Discord on your computer.
You can just use the universal method to uninstall Discord from your computer. Then, you can go to the Discord official site to download the installation file and install it on your PC.
Can you find a suitable way to fix Discord stuck on checking for updates on your computer? We hope you can. If you have other useful methods, you can let us know in the comments.